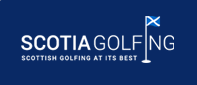 2014 Ryder Cup Charity Silent Auction
April 24, 2016 by Scotia Golfing
2014 Ryder Cup Charity Silent Auction
After the first Ryder Cup in Scotland for over 40 years Perth and Kinross council have decided to auction off a collection of items from the event in aid of charity. The 2014 Ryder Cup at Gleneagles was a huge success and it could be the last one staged in Scotland for a long time.
Many people are hailing the event as 'The Greatest Ryder Cup' ever. With over 250,000 people visiting the PGA Centenary course to witness some of the action firsthand and over 600million people watching it on TV it would be hard to argue with that statement. The match itself was not the most exciting in terms of competitiveness as the strong European team dominated throughout however the Gleneagles resort itself did a fantastic job in hosting one of the biggest sporting events in the world.
The Perth and Kinross council played their part in supporting the event by displaying banners, flags, signs and other street dressing and all of these items are now available to be purchased through the silent auction.
If you are interested in bidding for any of the items then please click on the link below for full details:
http://www.pkc.gov.uk/CHttpHandler.ashx?id=30245&p=0
Gleneagles is one of Scotia Golfing's favourite golfing locations in Scotland as it offers 5 star facilities with quality golf courses. The PGA Centenary course has remained in fantastic condition since the Ryder Cup and the demand throughout the 2015 season is high. We currently offer Gleneagles in a number of our sample packages as we feel it showcases some of the finest aspects of Golf tours in Scotland.
Please enquire now to find out about our tailor-made Golf vacations in Scotland and don't forget to click on the link to bid for some unique Ryder Cup memorabilia!