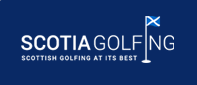 2015 SPECIAL OFFER
February 24, 2016 by Scotia Golfing
We are happy to offer a complimentary Scotia Golfing welcome pack to all vacation bookings of 5 nights or more that are made before June 2015.
Each golfer will be provided with a welcome pack that will include a variety of branded goods including, Tour Canape Umbrella, Dozen Golf Balls, Tees and more.
Enquire now to get your dream Scotland Golf vacation booked!