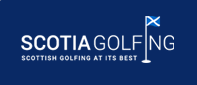 2017 Scottish Golf Packages
September 20, 2016 by Scotia Golfing
2017 Scottish Golf Packages
We will soon be adding some new Scottish golf packages for the 2017 golf season. Many of our original favourites will, of course still be available however we will also be adding some exciting new golf packages.
(Kintyre Course, Turnberry)
Even though The Open Championship will not be played in Scotland it doesn't mean that 2017 is not a huge year for Scottish golf. If anything, the Open being held in England can be seen as a positive for clients hoping to book a Scottish golf vacation that includes all the Open Championship venues, as for the first time in a few years they will all be available throughout the summer!!
After the very successful 2016 Open Championship at Royal Troon, demand is sure to be high for next year. Furthermore, with the 2018 Open Championship returning to Scotland, and more specifically Carnoustie (Carnasty) we would encourage anyone interested in adding these courses to their Scottish golf vacation to enquire as soon as possible.
Our ever popular 'Guaranteed Old Course Tee time package' will also be returning in 2017, and again you will be able to join it and another package together to experience the best of Scottish Golf. Again, we do encourage our customers to enquire soon as demand for the Old Course at St Andrews is also extremely high.
It will also be a huge year for one of our favourite but lesser known golf courses, Dundonald. It will be hosting the Scottish Open for the first time and we are happy that it will be getting the attention it deserves. Dundonald will be available to add to any tailor-made Scottish golf vacation and will also be available in some of our 2017 specials.
As always please contact us at Scotia Golfing with any queries. We offer more than just golf and are confident that we can offer a Scottish golf vacation to remember.
With fully qualified tour guides, fishing guides and golf experts Scotia Golfing is more than just a tour operator. We specialise in finer details and the true Scottish holiday experience.
Enquire now to book your 2017 Scottish golf vacation of a lifetime!