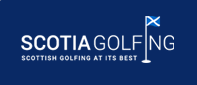 2017 Scottish Golf Season Review
October 19, 2017 by Scotia Golfing
2017 has been a successful year for Scottish golf. Many of the golf courses around the country have been in fantastic condition throughout the golf season, and remain in such.
The weather has not been overly kind. It seems the Scottish weather seasons have now changed and our summers are now often quite wet. Fortunately however, one of the best things about a Links golf course is that they are sand based, which means that they have fantastic draining. This means that the poor weather will not hamper your Scotland golf vacation. The summers are now wetter but it contrast, the spring and autumn months are now drier and are a great time to visit for a Scotland golf holiday.
Between April and June and September and November the courses, hotels and cities are usually quieter which means more chance of securing those tee times on our legendary championship golf courses. Scotia Golfing often recommends visiting in May as in recent times this has been by far the best month weather wise, and we can usually create the best Scotland golf holiday going in that month.
The 2017 Scottish amateur championships were successfully held at Prestwick golf course. This course hosted the first ever Open Championship and is a true reflection of a traditional Scottish Links course.
The 2017 Scottish Open was held for the first time at Dundonald Links. A relatively new course that we have been praising to our clients for a number of years, Dundonald is a fantastic addition to the array of fantastic championship Scottish Links courses. It is highly recommend on any Scottish golf tour and Scotia Golfing Scotland golf holiday.
Scotland golf vacations in 2017 have been as popular as ever, with demand extremely high at our most famous courses. This will also be the case in 2018 as the Open Championship returns to Carnoustie golf links.
The 2018 Scottish Open is once again going to be held at Gullane (another course we highly recommend adding to your Scotland golf vacation or scottish golf tour).
In summary, 2017 has been a fabulous year for Scottish golf and Scotland golf holidays and it looks like 2018 is set to be even better.
Don't forget to enquire through www.scotiagolfing.com to find out more.