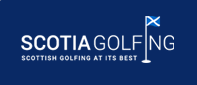 2017 Scottish Golf Season
March 20, 2017 by Scotia Golfing
2017 Scottish Golf Season
2017 is gearing up to be a busy year for Scottish golf. With some of our favourite golf courses celebrating important landmarks and others hosting elite tournaments, it is a great year to visit for a Scotland golf tour.
The 2017 Scottish Open will be held at the fabulous Dundonald Links on the West coast of Scotand. It is the first time the course has held an event of this magnitude and it is perfectly equipped to do so. Dundonald Links has previously hosted the Ladies Scottish Open and will do so again this year. It is through this event that it gained the respect and praise it deserved, and as such has now managed to secure Scottish golf's flagship event. Phil Mickelson, Justin Rose and Rickie Fowler have all won the event in recent years and players now see it as great preparation for the Open Championship as it is now held on one of Scotland's best Links courses. Scotia Golfing would highly recommend adding a round at Dundonald Links to any Scottish golf tour as it is one of the best up-and-coming courses.
The 2017 Scottish Amateur Championship (one of the games most prestigious events) will be held at Prestwick Golf Club, again located on the west coast of Scotland. Having hosted the first British Open Championship and many more thereafter, Prestwick is used to hosting large events.
2017 could be viewed as the year to celebrate golf in the west of Scotland. An area that is often over looked for the golfing Mecca St Andrews, the west coast offers some of the best Links golf in the world. A Scotland golf tour based in the west could include games at fabulous Links courses like; Turnberry, Prestwick, Royal Troon, Dundonald and Western Gailes. Please click here to see our sample west coast package. At Scotia Golfing we are also able to arrange tours at local Whisky distilleries to add some variety to your Scottish golf tour and turn it into a 'Discover Scotland Tour'. Please click here to read about our 'Discover Scotland Tours'.
Please enquire now to find out more about Scotland golf trips and to help us plan your ideal 2017 Scottish golf tour.