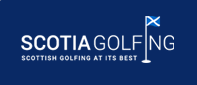 2019 End Of Season Review
December 12, 2019 by Scotia Golfing
2019 End Of Season Review
2019 has been a great year for Scottish golf. It has seen the emergence of a future golfing superstar in Robert MaCintyre, the 2019 European tour rookie of the year. A fantastic new golf course has been added to the Fife roster of championship courses and golf tourism has continued to grow in Scotland.
Robert MaCintyre has an outstanding 2 years in the Pro ranks. Just last year he has finished off an outstanding year on the Challenge Tour and was looking forward to his debut season on Europes flagship tour. This year he has continued his rapid progress in being named the European rookie of 2019. With 7 top 10 finishes throughout his season (a tied 6th in the Open Championship and two 2nd place finishes being the highlights) it truly has been a dream start for the young Scot from Oban. Everyone at Scotia Golfing wishes him the best of luck for 2020 and here's hoping he can make it to the masters! We will also be keeping an eye out for Grant Forrest and Connor Syme who will also be looking to make a name for themselves on the European Tour next year and both have huge potential!
Dumbarnie Links – The newest addition to Scotland's championship golf course roster and surely a course to hold major golfing events in the future. The new Links course located in Fife (25 minutes from St Andrews) is a truly spectacular Links course. It is a modern Links design with a historic and rustic feel. Similar in some ways to the championship Links on the Island of Ireland, with rolling sand dunes, undulating greens and fairways and fantastic views. The fabulous new course opens it's doors to visitors in May 2020 and is already in some of our Scotland golf tours and Scottish golf packages for next year.
(Dumbarnie Links)
This year has seen record number of tourists and golf tourists make the visit to Scotland. Scotland is fast becoming one of the must visit places in the world today. With vast amounts of history, beautiful landscapes and buildings and word class resorts and activities for all it is easy to see why. At Scotia Golfing we always look at ways to include more than just golf on your Scottish golf tour. Obviously Scotland is the home of golf, and is the primary reason for many of our clients visiting the country. However, in recent times, we have had more and more enquiries for Scottish golf trips with the added extras.
Our Golf and Whisky tours are now hugely popular and we have a variety available on the website. Depending on your whisky preference or on which Scottish golf courses you would like to play, we can build a Golf and Whisky tour to suit everyone.
Another hugely popular Scottish golf tour for 2019 has been our Golfer and Non-Golfer tours. We have a few listed on the website however these are usually always built specifically for our clients needs and wishes. We can include fine dining at some of Scotland's best and most exclusive restaurants (or the hidden gems) which use some of the world's best natural ingredients on offer in this beautiful country. Guided sight-seeing tours have been another popular addition to our golfer and non-golfer tours and also many of our more basic Scotland golf packages. We use qualified blue badge tour guides to offer a unique insight into Scotland's ancient history.
Everyone at Scotia Golfing wishes you a very Merry Christmas and a brilliant 2020. Please keep us in mind if you are considering a Scottish golf tour for 2020 or 2021 and we can work together to build a vacation of a lifetime.
Regards,
Euan Fuller