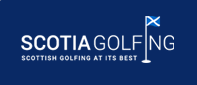 2021 Scottish Golf Packages
June 24, 2020 by Scotia Golfing
We will soon be adding a few new 2021 Scottish golf packages to our collection. Keep your eyes peeled in the next few weeks.
Due to the current Covid-19 situation we have delayed releasing some of our new 2021 Scottish golf tours. As things are starting to look a bit more promising and Scotland is poised to open up on the 15th of July we feel it is now a good time to start thinking about your dream 2021 Scottish golf holiday.
The fabulous new Dumbarnie golf course (opened last month to glowing reviews) will be hugely popular and will be available on many of our tours. Availability of guaranteed Old Course tee times for next year will be trickier than normal. This is due to nearly all bookings being pushed back from this summer to next. This however, does not mean that we cannot stil offer 2021 Guaranteed Old Course packages but we hope you can be flexible with your desired dates.
(Dumbarnie Links)
As ever, we at Scotia Golfing like to promote our Scottish golf tours with the added extras. These will again be hugely popular in 2021 and we feel, offer a complete Scottish vacation package for all your groups desires.
With our highly rated Guided tours with blue badge tour guides, whisky tours and tasting, Castle visits and private tours Scotia Golfing can create a package to suit everyone.
Please contact us to find out more and to start planning your 2021 Scottish golf trip and stay tuned for our new packages!