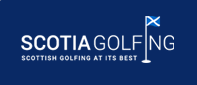 2022 Scottish Golf Tour Update
September 16, 2021 by Scotia Golfing
2022 Scottish Golf Tour Update
As things slowly get back to normality (or the new normal) we thought it would be a good time to provide an update on our 2022 Scottish Golf Tours and what great packages we will have available for our clients next year.
I think it is safe to say that the last 18 months have been tough times for everybody, especially the travel industry. Thankfully, it is starting to look like we are on the otherside of it all and we can begin to look forward to planning holidays across the globe again next year.
(Dumbarnie Links)
International travel has been up and running in Scotland for the last few months and Scottish Hotel's and Golf courses are starting to get busy again with international clients, which is fabulous news. Scotland has had one of it's warmest summers on record, so it is a huge shame that more of you couldn't have come and experienced one of our classic 'Scotland Golf Packages'.
Due to the Covid pandemic, 2022 is set to potentially be the busiest year on record for the golf industry here in Scotland. With 2 years of pushed back bookings, The 150th Open Championship, and lot's of people desperate to get away on a Scottish golf vacation demand is going to be extremely high. Guaranteed Old Course tee times are already extremely limited for next year, with only a few packages remaining. Because of this, we see this as a great opportunity to promote our hugely popular Golf and Whisky tours. These are available all around Scotland, but our preferred destinaties are Aberdeen and the North of Scotland or over the West Coast and the Western Isles. Our Golf and Whisky tours allow us to use our extensive knowledge and repetoire of hotels, distilleries and fabulous golf courses to create unique, bespoke experiences around Scotland. Even with huge demand next year we will be able to offer fantastic Golf and Whisky tours around Scotland. Keep an eye out on a special update regarding these soon.
In the coming weeks I will be posting some updated Scottish golf tours and packages for 2022 and will also be sending out a few specials to our mailing list. We look forward to seeing you all soon and welcoming you on your dream Scottish golf vacation.