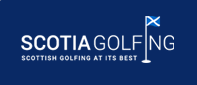 A Round With Euan - Kingsbarns
February 22, 2017 by Scotia Golfing
A Round With Euan - Kingsbarns
As I made my way along the winding driveway to this marvellous course, I was eagerly anticipating another fabulous game of golf. Having played this course a hand full of times, I can safely say that my pre-game excitement levels increase upon each visit.This is not because of the standard of my golf on previous rounds, it is because I am aware of what lies ahead.
As you approach the impressive stand-alone clubhouse and pro shop you can't help but notice the spectacular views out over the coast with a fluttering Saltire flag standing tall. A hand full of golf holes are visible and each of them looks more than suitable to be a signature hole on any world class course.
As you make your way through the first few holes you find yourself enjoying every aspect of the course. It is a fairly forgiving start and the course is always in exquisite condition. The undulating greens are fast but not too fast and the fairways and bunkers are what you would expect from a modern championship Links course. The main reason that you are enjoying yourself, is however down to the philosophy of the golf course designers; Kyle Phillips (Dundonald) and Mark Parsinen (Castle Stuart) who have designed some exquisite courses which would improve any Scottish golf vacation. Their philosophy is that a player should be able to play a round of golf with the same ball and that punishment for a wayward shot should be fair, which will usually mean a bogey and not a lost ball.
With your average golfer wanting to play the same courses that major championships and tournaments are held, it is no wonder that a game of golf is taking over 5 hours on occasion. Often those courses are defended by deep rough and extremely tight fairways, which is a suitable defence for your tour professional, however for a social golfer called 'Jim' who plays off 21 and covers 3 adjacent fairways with his boomerang slice it can be sole destroying. Kingsbarns is expertly designed so that occasionally 'Jim' can enjoy 18 holes with the same golf ball even if he isn't playing well. The fairways are wide and the rough is very manageable and yet it maintains its championship feel. You are required to find the correct line off the tee to ensure that you have a suitable angle in to the green. The way the greens are designed means that if you are slightly off line with your tee shot, you won't be able to hold your ball on the green or in some cases even get near it. The greenside bunkers are very well positioned and will catch any run offs and the undulations on the greens can help push a ball away from the hole if approaching from the wrong angle.
The standout holes are on the back 9 as they meander their way along the coast and these are also the holes where 'Jim' would most likely lose a ball unless he's brought his snorkel. The par 5 12th hole will stay in your golfing memory bank for a lifetime as it truly is one of the best golf holes I've played and the par 3 15th isn't far behind.
Having played many courses throughout Scotland and the world I can honestly say that Kinsgbarns is in my top 3 and I would highly recommend adding it to any Scottish golf vacation or Scottish golf tour. It is still relatively unknown in comparison to its neighbours in the region of fife, however it offers a fantastic golfing experience that I will always recommend it to anyone visiting for a Scottish golf vacation in 2017.