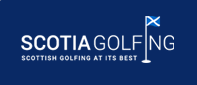 A round with Euan - Trump International Links Aberdeen
June 05, 2017 by Scotia Golfing
A round with Euan - Trump International Links Aberdeen
A new addition to the fantastic array of Scottish championship Links golf courses and a must-play for any Scottish golf tour. The course is located just north of Aberdeen on an area of Coastline that was already littered with quality championship courses. Royal Aberdeen (2015 Scottish Open Host) Cruden Bay and Murcar Links (2016 Play Lawrie Matchplay host) are located within close proximity and offer a more traditional Scottish Links experience which would also improve any Scottish golf vacation.
Trump International is another of a growing list of American owned / designed courses in Scotland. In recent years new courses like the Renaissance Club, Castle Stuart and Machrihanish Dunes have been built by companies who's ownership lies overseas.
As you arrive at the Club House of Trump International, after making your way down the long and beautiful driveway, it is easy to see that this is a luxurious golfing establishment. A fantastic driving range lies to your right where complimentary range balls are offered and the stunning scenery engulfs the somewhat modest sized clubhouse.
The course meanders through steep and vast sand dunes and this is the trademark of the course. The holes are meant to appear like they are simply carved through the natural landscape and while playing the course, this is the feeling that you get. It is a fairly gentle start to help you find your rhythm, however any wayward tee shots will most likely result in a lost ball. The fairways are not narrow by any stretch, but with a 20+ mph wind more than likely hitting these fairways can be an issue. If you are lucky and miss a fairway you will be in a bunker, if you are unlucky you will either find your ball in 2ft+ deep rough or it will be one of a few that you will lose. I managed to lose 4 golf balls during my round here (handicap of 3) and the staff in the clubhouse will tell stories of punters on a Scottish golf holiday who managed to lose 16 balls on the front 9 alone.
The course is fantastic and the views on certain holes are phenomenal. It has a rustic feel to it whilst also offering a championship test. Some of the views from the tees are the memories that stand out for me and a camera is a must when playing. If you get it on a very windy day then good luck to you and make sure your ball pocket in your golf bag is well stocked.
We recommend Trump International to anyone wanting to experience quality Links golf in Scotland (and we will be sure to ask if you visited a bunker on the 18th as there are 18 of them!). It is a unique experience and one that will add variety to your Scottish golf tour. The North East of Scotland has an unbelievable array of fantastic Links courses and it is a must visit for any keen golfer. Please enquire at www.scotiagolfing.com to book your Scottish golf tour and we will customize a trip to suit your every need.