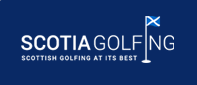 Happy New Year - A Scotia Golfing Update
January 06, 2021 by Scotia Golfing
Happy New Year to all of our friends, clients and colleagues across the globe. 2020 was a strange year to say the least and we are not overly dissapointed to see the end of it. The good news is that it looks like the vaccine rollout is starting to pickup speed and hopefully this will mean our Scottish golf tours and packages can resume in the summer of 2021.
We are thankful for all of the hotels, transport providers and golf courses for making their establishments as covid-19 secure as possible, and this, along with a vaccine should hopefully bring a form of normality sooner rather than later.
The quality of Scottish golf courses has never been better, and there is now a quantity of world-class courses, all within relative close proximity, that cannot be matched anywhere in the world. The newest addition, a superb Links in Fife called Dumbarnie opened in the summer of last year (one of the few highlights) to rave reviews. We are excited to be able to offer this in many of our 2021 Scottish golf tours alongside the usual, more renowned courses.
(Dumbarnie Links)
Our Scottish golf and whisky tours remain to be some of our more popular packages and we are looking to add a few more golf and whisky tours to the website. Whisky (Scotland's biggest export) and golf can go hand in hand, and it is a great way for golfers to explore more of the country whilst still enjoying a fun, relaxing Scottish golf holiday.
In the coming weeks we will post some updated Scottish golf packages (we are always looking at ways to improve) and we look forward to hearing from you soon. We can build bespoke packages to suit all groups so please enquire here to find out more.
All the best for 2021 and stay safe.
Regards,
Euan (Managing Director)