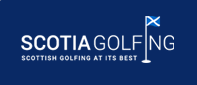 Interested in a 2024 Scottish Golf Tour?
September 21, 2023 by Scotia Golfing
Get ready to tee off on a golfing adventure like no other in Scotland! Known as the birthplace of golf, this stunning country boasts some of the world's best golf courses and hidden gems just waiting to be discovered.
From the iconic St. Andrews Links, where legends have battled it out for centuries, to lesser-known treasures tucked away in breathtaking landscapes, Scotland offers a golfing experience that is truly unparalleled. Imagine teeing off against a backdrop of rugged mountains, rolling hills, and picturesque lochs – it's a golfer's dream come true!
But Scotland isn't just about golf. It's also home to another beloved Scottish tradition – whisky. Combine your love for golf with a whisky tasting experience and indulge in the finest single malts after a day on the fairways.Our Golf and Whisky packages are getting even more popular and we have now been regularly combining these with Golfer and Non-Golfer tours so that everybody can join in on the fun!
Planning a golf holiday or just a holiday in Scotland? Look no further! We at Scotia Golfing specialise in Scottish golf tours, Golf and Whisky tours and Golfer and Non-Golfer tours. You can leave all the logistics to the experts and focus on perfecting your swing and the beautiful scenery. Whether you're an experienced golfer or just starting out, there's something for everyone here.
So grab your clubs and get ready to embark on an unforgettable journey through Scotland's best golf courses and hidden gems. From challenging links courses by the sea to tranquil inland retreats, this is where memories are made and lifelong friendships are forged. Don't miss out on experiencing the magic of Scottish golf – it's time to hit that perfect shot amidst stunning scenery!