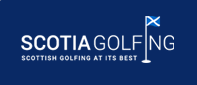 Kings Course Centenary Year
February 28, 2019 by Scotia Golfing
This year is the 100th birthday of the fabulous kings course at Gleneagles. It is one of Scotland's best golf courses and arguably the finest inland course.
Having walked the fairways for nearly 20 years I am extremely familiar with the course and the traditonal inland course characteristics that it shows. The James Braid designed championship course is defended by the notorious Braid bunkers. The fairway bunkers and greenside are extremely penal, and often the only option is sideways! This is often a bit of a shock to our clients on their Scotland golf trip.
The kings course used to have the largest single green in the europe (the 18th), however now it must settle for the largest in the UK. The greens are another characteristic of the course, with steep undulations (that have seen many a player putt off the green) and fantastically smooth running.
(16th Green, Kings Course)
Unfortunately due to the length of modern championship golfers it is now no longer able to host major golfing events however it still hosts major regional events. It is also not too long a time since the courses hosted the Scottish Open (in the 90's) and the Woman's PGA Championship.
I always highly recommend this course to any clients visiting on a Scottish golf tour. Gleneagles, winner of the 'World's leading golf resort' for a number of consecutive years is a fantastic place for anyone looking for a Scottish golf trip with a touch of luxury. It also offers our Scottish golfer and non-golfer tours a variety of other activities to get involved with (fishing, off-road driving, clay pigeon shooting, tennis, falconry and many more).
With the PGA course at Gleneagles also hosting the solheim cup match between Europe and the USA, 2019 is shaping up to be a massive year for Scottish golf and Gleneagles.
Having caddied on and played all of the courses at Gleneagles for a number of years I can say that the Kings course is my favourite (however the others are also brilliant) and I recommend adding it to your Scottish golf trip in the future.
For any Scotland golf tour enquiries or to find out about our new Scottish golf packages please click here.
We will hopefully be planning a Scottish golf vacation for you soon!