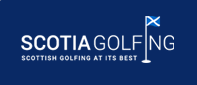 Links Golf In Scotland
March 12, 2016 by Scotia Golfing
Links Golf in Scotland
Scotland is famous as the home of 'Links Golf' and offers a variety of spectacular courses including; The Old Course, Muirfield, Carnoustie and Gullane to name but a few.
So what exactly is a Links and why has it become so important?
A Links is an uneven and rough grassy area that forms the border between the land and the sea. The origins of the word date back over 1,000 years to Anglo Saxon times and are thought to be derived from the old Saxon word 'hlinc' which was used to describe the area forming a small hill along the edge of the sea. The word subsequently became used to describe the whole grassy area beside the coast but has even extended further to cover almost any golf course.
The land close to the shore was typically low, flat but undulating which was ideal for golf. Because the grazing quality was relatively poor it did not compete with agriculture and so was perfect for the pursuit of golf and many links were conveniently located to larger areas of population such as St Andrews or Edinburgh. Unless sheep were used as to crop the grass, golf was normally a winter game when the grass on the fairways were naturally shorter.
Golf was so popular in medieval Scotland that it was even banned by King James IV from 1457 to 1502 as it was distracting the population from archery practice!
Although Scotland has over 500 golf course less than 100 can be described as true 'Scottish links courses'. Luckily this does include some of our most famous courses, including those used for the Open Championship, St Andrews, Carnoustie, Muirfield, Royal Troon and Turnberry all of which are available in Scotia Golfing packages and will guarantee that your Scottish golf vacation is one to remember.
To get the best links courses the soil should be sandy and well drained. This creates grass which has long roots extending deep into the ground to get moisture but with short blades of grass. This is perfect for golf. It also creates areas of longer grass resulting in the famously difficult patches of rough. Because they are well drained, links courses can be played almost all year long assuming you are brave enough to venture out during a Scottish winter.
Because of the high mountains in North West Scotland the majority of links courses are found on the east coast of Scotland everywhere from Royal Dornoch to Dunbar. But let's not ignore the South West and the Islands home to such classics as the Machrie on Islay and Prestwick in Ayrshire.
It was the Links that caused Golf to develop in Scotland and it is now the Links that has made Scotland famous for Golf and an ultimate Golfing destination!!