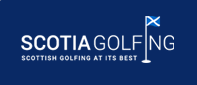 Luxury Scottish Chauffeur Driven Transport Update
July 25, 2017 by Scotia Golfing
Luxury Chauffeur Driven Transport
It has been nearly 3 months since Scotia Golfing expanded its services to be able to offer luxury chauffeur driven transport in-house.
It means our clients can now enjoy a completely stress-free Scottish golf vacation from the moment they arrive at the airport. A member of Scotia Golfing will be waiting to meet and greet you at the airport before loading your luggage in one of our luxurious vehicles and transferring you to your hotel.
(Our Luxurious V Class Mercedes)
Your daily transfer to and from golf will also be enjoyed in upmost luxury which means you can enjoy a dram or two after your game.
It can also add some versatility and spontaneity to your Scottish golf tour. With vast quantities of local knowledge our drivers will be able to add last-minute additions to your Scottish golf tour... this could range from a slight detour to a whisky distillery or to a little hidden gem of a restaurant or even a quick 9 holes on a lesser known gem.
(Discover the highlands in luxury)
Our chauffer drive options are not limited to our Scottish Golf Tours and can also be booked independently for individual transfers and sight-seeing tours.
For clients on a Scottish golf vacation we limit the load to 4 passengers plus clubs and luggage in order to maximise comfort.
Feel free to enquire about our Scottish golf tours and transport options at www.scotiagolfing.com.
Or email us directly at info@scotiagolfing.com
We are 100% confident that we can plan Scottish golf vacation that ticks all the boxes.