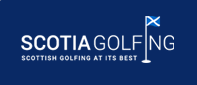 New 'Best Of Both' Package!
March 02, 2016 by Scotia Golfing
New Best Of Both Package!
As Scotia Golfing offers much more than the usual golfing holiday we have decided to showcase this in our new Best Of Both package. We have tailor-made a package for the golfer and non-golfer who will both be able to enjoy a fantastic golf vacations in Scotland. For the Golfer the package will showcase some of Scotland's best inland golf courses while also letting you experience the Open Championship venue, Carnoustie. The golfer will also have the chance to experience a day's fishing for Salmon or Trout, a guided tour of a castle and a visit to a local Whiskey tour in Scotland.
The non-golfer will be spend the week discovering the real Scotland. This will involve guided tours around castles, cities and monuments while also joining the golfers for a local distillery tour. They will also have chance to enjoy a day sight-seeing and shopping in the historic city of Edinburgh before spending the final day un-winding at the luxurious Gleneagles Spa.