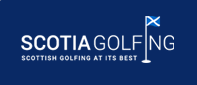 New 'Outlander Golf Package' Coming Soon!
April 06, 2016 by Scotia Golfing
New 'Outlander Golf Package' Coming Soon!
Scotia Golfing is delighted to announce a new luxury golf vacations scotland packages that combines the best Scottish golf courses together with the opportunity to visit some of the locations used in the filming of the massively successful 'Outlander' TV Series.
In 2013, a US film crew arrived in Scotland to create the TV version of Diana Gabaldon's best selling 'Outlander' novels, which tell the story of a Second World War nurse who accidentally novels back in time and finds herself in 18th century Scotland.
The heroine of the series, Claire Randall, initially desperate to return home to the 20th century, becomes torn as she falls in love with the romantic Jacobite hero, Jamie Fraser. However the Jacobites were about to face their biggest challenge, the '45 Rebellion and finally defeat at the battle of Culloden.
Outlander was filmed at a number of spectacular locations across Scotland and Scotia Golfing can provide a unique opportunity for both golfer and non-golfer to combine a visit to these locations with the opportunity to play some of Scotland's finest golf courses.
We can tailor make your individual Outlander Golf Package to combine your favourite locations from the series with the best courses in that area.
For example, our six day Outlander Golf Package could include a visit to Inverness and Culloden Moor plus a round of golf at the world famous Castle Stuart course, a visit to historic Culross in Fife , used as the setting for fictional village 'Cranesmuir' plus a round of golf at Kingsbarns, one of Scotland's best links courses.
The possibilities are endless, so if you are a fan of Outlander and of Golf why not let Scotia Golfing help you realise your dream vacation with a Scotia Golfing Outlander Package. As always the packages can be customised to include any of our 'Discover Scotland' extras! Please enquire now to book your dream Scottish Golf Vacation!