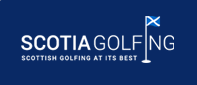 Scotia Golfing Update
June 30, 2016 by Scotia Golfing
The work at Scotia Golfing never stops. Over the last few weeks we have been busy putting together some packages for the 2016 season which will go live on the website in the next few months.
Due to the abundance of quality golf courses in Scotland we feel that it is a fine art putting together unique and enjoyable Scotland golf tours and packages to make sure the client has an experience of a lifetime.
We have also been busy making a few short films to show off some of the courses that are available in our sample packages.
Please Click the links below to watch our videos:
Castle stuart:
https://www.youtube.com/watch?v=fuxYBxiNOvg
Crail (craighead)
https://www.youtube.com/watch?v=FCXZ6tBSvfU
Over the next few months we will be making more of the videos to give a unique perspective into the courses that will make your Golf Vacation in Scotland memorable.