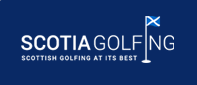 Scotland Golf Holidays
August 29, 2017 by Scotia Golfing
Scotland Golf Holidays
Scottish golf tours on some of the country's oldest and best golf courses cannot be matched anywhere in the world. The Links courses that are littered across the country are unique to the British and Irish Isles and the historic championship courses are primarily located in Scotland.
A 2018 Scotland golf holiday can include 5 British Open Championship venues which is unprecedented. As Scotland is a fairly small country in geographical terms, it is ideal for Scottish golf tours as it allows us to travel to the various historic golfing regions.
A 2018 golf holiday in Scotland can also be tailored to suit most budgets as fortunately there are many lesser known courses throughout the country that offer affordable golf (and these courses are still fantastic and are available on many of Scotia Golfing's Scotland golf holidays).
Lesser known Links courses like Nairn in the north east of Scotland, which has hosted the Walker cup is a fantastic traditional Links course with some of the best greens that you can find on any Scottish golf course.
Lossiemouth also in the north east is one of the oldest courses in the country and is a truly spectacular addition to any Scotland golf vacation.
Dundonald over on the fantastic westerly golfing region of Scotland has recently hosted the Scottish open and is finally receiving the praise that it deserves. It is also a fantastic addition to any Scottish golf tour and Scotland golf vacation.
A 2018 Scotland golf holiday would not be complete without playing the 2018 Open Championship venue, Carnoustie. Located in the east of Scotland it is a fantastically difficult Links course and is a must play on any 2018 Scotland golf tour and Scottish golf vacation.
Don't forget we can also offer the best golf and whisky tours in Scotland. With fully qualified staff in all of the tourism areas we can cater to all needs and pride ourselves on offering Scotland golf vacations with added spice.
A 2018 Scotland golf and whisky package is essential and you can book your golf and whisky tour here.