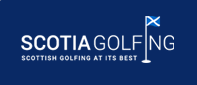 Scotland's Finest Golf Courses - Dundonald
April 20, 2016 by Scotia Golfing
Scotland's Finest Golf Courses - Dundonald
Dundonald is located in the west of Scotland within close proximity of Prestwick, Royal Troon, Western Gailes and Kilmarnock Barassie. It is also not far from Turnberry which illustrates the prime golfing land that it has been built on. A course designed by renowned golf course architect 'Kyle Phillips (Kingsbarns) epitomizes a modern championship Links course with every aspect. Having opened in 2003 when members of Loch Lomond golf club bought the land and commissioned Mr Phillips to design a world class Links, the course has lived up to its early promise by hosting Ladies European tour events and European tour qualifying tournaments.
According to Kyle Phillips the intention was to design a course that felt and played like it was an old rediscovered course. With the fairways looking like they were carved through sand dunes and the fast undulating greens it is safe to say that Mr Phillips accomplished his goal. Upon playing each hole it feels like you are completely segregated from the rest of the golf course as all you can see from the tee and fairway is the hole that you are playing. This is a great way to make the golfer focus on the incredibly well designed holes and to not be distracted by what is happening on the rest of the course.
The course is long however with a selection of 5 different tee boxes it is possible for every golfer to enjoy themselves. The fairways are quite wide and generous and yet accuracy of the tee shot remains paramount in trying to get the best angle in for your approach shot. The firm undulating greens mean that if you are out of position on the fairway then attacking the flag will be impossible. The greens are also well protected with traditional deep links bunkers and the undulating fairways mean that the golfer must adapt to varying lies. It really does play like a world class Links.
Dundonald adds to the fine selection of golf courses available in the west of Scotland and is currently available in one of Scotia Golfing's sample tour packages. With the Open Championship being hosted in this region (Royal Troon) in 2016 the demand for golf in this area will only increase. Scotia Golfing would recommend adding Dundonald to any of your Scottish golfing packages in this area (see our Best Of West package for a guide) and we feel that in time this will be one of the countries great Links courses.
Please enquire now to book your 2015/2016 Scotland golf trips and add Dundonald to your Scotia Golfing package.