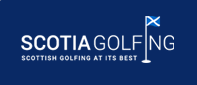 Scotland's Finest Golf Courses - Kingsbarns
April 01, 2016 by Scotia Golfing
Scotland's Finest Golf Courses - Kingsbarns
Kingsbarns is a relatively new addition to the fantastic array of golf courses in the Fife region of Scotland. Having opened in 2000 it has gone from strength to strength and is regularly voted in the world's top 50 best golf courses.
(Kingsbarns 2nd Green)
Designed by Kyle Phillips, it offers spectacular views of the coast and the undulating dunes on nearly every hole. Kyle Phillips's philosophy is that a golf course should be challenging and enjoyable for nearly every level of golfer and because of this he does not think it is necessary to have extremely narrow fairways lined with thick rough, unlike many other top rated championship courses. Instead he places course strategy at a premium which is evident at Kingsbarns and also Castle Stuart (Inverness, Scotland), which is also a Phillips design. The need to be place your tee shots on certain areas of the wide fairways is huge as a slight misjudgement will make the approach shot incredibly challenging with numerous bunkers and undulating greens offering the course protection. The stretch of holes between the 11th and 17th are some of the most scenic in world golf as you work your way along the spectacular coast line and experience the wonderful variety of golf holes.
(12th Hole Kingsbarns)
Along with Carnoustie and the Old Course, Kingsbarns plays host to the Dunhill Links championship and has done for a number of years. This plays testament to the fact that for a course which is only 15 years old it can rub shoulders with the greats of Scottish golf.
As Kingsbarns is only open from April-November it is always in fantastic condition, with the well maintained rolling fairways and the slick undulating greens it truly is a must play. Scotia Golfing will recommend this course to anyone who has not yet experienced it and it is also rightfully placed in our 'Ultimate Golf' tour sample package for the 2015 season. We feel that a Scottish golf vacation wouldn't be complete without enjoying a round at this wonderful course.
Enquire now to book your 2015 Scotland Golf vacation!