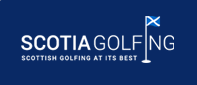 Scotland's Finest Golf Courses - Royal Troon
April 29, 2016 by Scotia Golfing
Scotland's Finest Golf Courses - Royal Troon
Located in the west of Scotland, Royal Troon is one of Scotland's 5 Open Championship venues. The first golf played on the site dates back to 1878 when a 5 hole course was designed following a meeting at a local bar. In 1923 Royal Troon hosted its first Open Championship and since then has hosted the event 8 times.
The Royal patronage was bestowed upon the course in 1978 (its Centenary year) by Queen Elizabeth II and remains the first and last course to have been offered the Royal status under her Majesty's reign.
(1st Royal Troon)
Royal Troon meets most of the traditional Links characteristics with a course designed to be severely affected by the prevailing wind. The outward and inward 9 holes will differ greatly in terms of difficulty depending on the wind direction. The prevailing wind will usually mean that the front 9 holes will have the wind helping which will mean your score will be made here. Once you reach the 10th and turn back into the wind you will encounter some brutal golf holes. The 11th in particular is a 490 yard par 4 with out-of-bounds down the right side. This hole is regularly rated the toughest on the course during the Open Championships.
(Par 3 8th )
The signature hole on the course is the par 3 8th. Named the 'Postage Stamped', it is the shortest par 3 on the Open circuit (123 yards) and depending on the strength of the wind can still offer a severe challenge. Royal Troon will again host the Open in 2016 and it remains to be seen whether an American will win it here for the 7th time in a Row (Previous winners include; Palmer, Watson, Calcavecchia, Weiskopf, Leonard and Todd Hamilton).
Scotia Golfing rates Royal Troon highly and with the Open being held here in 2016 demand for the course is extremely high. Our 2016 Golf vacations in Scotland packages can be organised now to include Royal Troon and the Old Course which will give you the opportunity to play the two most recent Open Championship venues! The fantastic golf available in the west of Scotland is sometimes overlooked however Scotia Golfing are pushing hard to showcase the abundance of quality courses available in this region.
(14th Royal Troon)
Please enquire now to book your 2015/2016 Scottish golf vacation and add Royal Troon to your Scotia Golfing package.