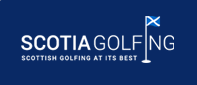 Scotland's Finest Golf Courses - Trump International
May 07, 2016 by Scotia Golfing
Scotland's Finest Golf Courses - Trump International
Located in the north east of Scotland between the renowned Murcar and Cruden Bay Links courses, Trump International opened in 2012. It is the latest American owned Links course to hit the Scottish coastline and also follows in the trend of other modern Scottish championship Links courses that have opened on scenic parcels of rugged coastal land (Kingsbarns, Renaissance and Castle Stuart) .
(6th Hole at Trump International)
The course was designed by the renowned architect Martin Hawtree who has worked on numerous projects for the R&A involving Open Championship courses. The decision to use Martin has paid off as the course has a classic feel to it. The course is laid out in a traditional north-south direction in order to capture the magical natural topography of the sand dunes. The views that are on offer throughout the course are extraordinary and it has been a remarkable feat that a course under 5 years old looks like it belongs amongst the landscape.
As with all links courses the bunkers and wind will play a huge part on your score. There are 18 bunkers on the 18th hole alone which means that accuracy is paramount throughout the round. The course has also been designed to welcome all levels of golfer as there are 5 tee boxes available for use.
(10th Hole at Trump International)
Everything at Trump International has been carried out to the highest standard and Scotia Golfing will highly recommend this course to all visiting parties. The north east of Scotland is fast becoming the sought after location for a Scottish golf vacation. With an abundance of championship courses in close proximity that also all offer breathtaking views and showcasing traditional Links golf. Our sample 'Northern Lights' package provides an example of what a week's golf in this region entails.
Please enquire now to book your 2015/2016 Scotland Golf Tours and add Trump International to your Scotia Golfing package.