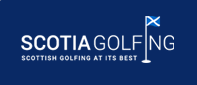 Scotland's Finest Golf Courses - Western Gailes
April 08, 2016 by Scotia Golfing
Scotland's Finest Golf Courses - Western Gailes
Western Gailes is a Links course located on the west coast of Scotland. A region of Scotland that is known primarily for Open Championship venues like Turnberry and Royal Troon, Western Gailes offers another fantastic test of traditional Links golf. The western region of Scotland is often overlooked for the golfing mecca of Fife, however Western Gailes is just one of the fantastic courses in this area.
Western gailes offers a slightly varied approach to the traditional outward and inward 9 holes that the majority of Links courses adhere to. The fairways offer gentle undulation throughout while the golfer must navigate their way through a collection of burns that meander through the Links. The greens are well protected by the natural topography of the land which can include sand dunes and natural hollows. As ever with Links courses there are also numerous bunkers throughout the course which offer another stern challenge to the visiting golfer especially when the unpredicatble westerly wind is showing its teeth.
A course that can be described as a combination of the other well known Links in this area (Turnberry, Royal Troon, Prestwick) is guaranteed to make the golfer use every shot in their artillery and also every club in their bag!
Western Gailes has regularly hosted Open qualifying when the Championship is held at either Turnberry or Royal Troon and this will likely be the be the case for the Open in 2016. It is a fantastic golf course and as such is available in Scotia Golfing's 'Best Of West' sample tour package. With the Open Championship set to be held at Royal Troon in 2016 this region of Scotland will be a hotspot for golf in the coming months and years and is a must visit for any Scottish Golf Vacations.
Please enquire now to book your 2015/2016 Golf Vacations in Scotland.