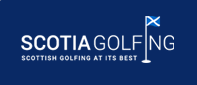 Scottish fishing season is well underway!
March 28, 2016 by Scotia Golfing
Scottish fishing season is well underway!
The 2015 fishing season in Scotland is now getting into full swing across our magnificent rivers and lochs.
There is more to Scotland than just golf and the team at Scotia Golfing are working hard to showcase the very best tailor-made vacations that Scotland has to offer. With the help of our partners at Scotia Fishing we are able to offer guided trip of fly fishing Scotland throughout 2015. The salmon fishing season started on the River Tay on 15th January and some anglers have already had the fantastic thrill of catching a renowned 'springer' as these prized early season salmon are affectionately known. Our other famous salmon rivers , the Spey, Tweed and Dee all opened on the 1st of February and some great catches are being reported. The world famous River Dee which flows into the North Sea at Aberdeen is well renowned for its great run of early spring salmon. The River Spey flows through Speyside, home to some of the best whisky distilleries in the world and so stopping off for a dram after a great days fishing is a great way to end the day.
Scotland is also world famous for its hard fighting wild brown trout and the season started on the 15th March. Although the weather at this time of year can be challenging, it is well worth it, when rewarded by a beautiful wild Scottish brown trout. The beautiful fish, each with a unique pattern of red and black spots on a background of gold are a real joy to catch. There is nothing better than tempting a wild 'brownie' to take a fly on a wild Scottish loch or river.
Fishing is part of the Scottish way of life and is a great way to spend a day during your luxury Scottish vacation experience.
Please contact us now to book your tailor-made golf and fishing vacation and don't forget to look at the 'Discover Scotland' section of our website to see what other extras can be added!