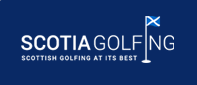 Why Scotland is the best golf holiday destination
May 24, 2017 by Scotia Golfing
For the size of it, Scotland has the highest number and best quality golf courses in the world. However, Scotia Golfing believe that more is required to be a first class holiday destination. Fortunately enough Scotland has the added extras in abundance.
If you are thinking of booking your 2017/2018 annual golf vacation then look no further. We (at Scotia Golfing) believe that Scotland is able to fulfil any holiday and golfing desires.
We are 100% confident we can create a fantastic Scottish golf holiday to suit your every wish.
Scotland has every type of golf course you could ever wish to play. From traditional Links courses, to modern Championship courses, from quirky 9 hole parkland courses to the oldest championship Links course in the world. With world class golf courses spread throughout the country, no matter where you wish to stay we can create a world class Scottish golf package.
Scotia Golfing feel that there is more to a golf holiday than just golf and it is because of this that we are able to offer a variety of added extras, all with fully qualified staff (which we feel is essential). This is one of the many ways that we feel that we are unique, and the best at offering tailor-made golf vacations.
We can combine any type of fishing that Scotland is renowned for with your golf vacation. From fly fishing for Salmon, to fly fishing for trout in a local Loch.. and why not try your hand at some Shark fishing off the west coast (it is a lot of fun!). Pike, trout, greyling, pollock and other types of fishing are also available.
Two of Scotia Golfing's members of staff are also fully qualified STGA blue badge tour guides and Scottish Whisky Ambassadors. This means that they are fully qualified to plan and assist with tours to various locations throughout the country. They will show you and explain the history behind many of the historic Castles and venues littered throughout the historic land.
With connections at the leading hotels in the country and some of the finest local B&B's we are also able to offer you the best accommodation.
Please enquire now to find out more about what kind of Scottish golf vacation or Scottish golf tour we can offer. We are confident that no matter what, we will be able to fulfil your requests. while also perhaps suggesting plans that you might not have thought of.
Enquire now at www.scotiagolfing.com to find out more about booking your 2017/2018 Scottish golf tour.
Alternatively find us on Facebook (Scotia Golfing) , Twitter @ScotiaGolfing or on Instagram @scotiagolfing.