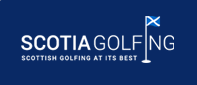 Why Scotland is the perfect destination for your golf holiday
July 22, 2017 by Scotia Golfing
Why Scotland is the perfect destination for your golf holiday
If you often love to relax with a good game of golf, then time spent in Scotland could give you the wonderfully strong feeling of "a home from home". It'd be apt, too – as Scotland is very much where the sport originated. However, fascinating though that is, it only begins to touch upon the reasons why you should choose Scotland for a golf holiday. Below, we flesh out those reasons…
The long history of golf began in Scotland
The game, known back then as "gowf", involved players hitting, with a stick or club, a pebble around an organic course consisting largely of sand dunes and rabbit runs.
It's easy to embrace both golf and history
Visiting Scotland today, it can be easy to get a sense of what the country was like back when golf was born – not least thanks to the abundance of castles and fortresses remaining across the countryside. Furthermore, many of the most well-
known castles in this part of the UK are conveniently close to great golf courses. The course of Gullane, for example, is near Edinburgh Castle, where The Great Hall has, on display, some of the oldest Renaissance decorations in the UK.
Alternatively, you could put in a few rounds at the PGA Centenary course in Gleneagles – and then make the short journey to Stirling Castle, where the Royal Palace can provide you with an intriguing insight into Scotland during the reign of James V. And then there's Eilean Donan Castle, where you can learn more about Clan Macrae before heading off to the course at Machrihanish. Here, you can play a riveting game of golf to the backdrop of natural and rugged scenery.
At Scotia Golfing, we can plan your own 'Homecoming Tour' which can enable you to, during your holiday in Scotland, enjoy many of the local historical and golfing attractions that most interest you.
You can enjoy watching lots of golf, too!
However much you like playing golf, a Scotland stay can give you a great opportunity to watch lots of top-drawer golf, due to the array of world-renowned tournaments that take place in Scotland. These big name events include the Ricoh Women's British Open and The Open Championship, but you could be delighted by how many other exciting occasions are coming up when you look closer at golf events occurring over the next few weeks and months.
It's hardly an exaggeration, then, to say that Scotland offers a complete package for golf lovers. That's a very apt expression, as there are many attractive packages that we offer for when you're considering a golf holiday in Scotland. Tiger Woods and Jack Nicklaus have both played in Scotland, so you can be in prestigious company!